Free OSHA Training Toolbox Talks
Toolbox talks are an easy way for foremen and supervisors to supplement the OSHA training efforts of their company or organization, and to keep safety front and center in their workers' minds. These short pre-written safety meetings are designed to heighten employee awareness of workplace hazards and OSHA regulations.
A new toolbox talk will be published on this site each month. Each topic selected is generic enough to be applied to many different work environments (construction and general industry). While the information contained in each toolbox talk is believed to be accurate, remember that these toolbox talks are not intended to take the place of formal OSHA training, they are only intended to supplement the mandatory training and help maintain awareness.
NOTICE: The toolbox talks are formatted as PDF files. When you click the link for a particular toolbox talk, it will either open in a new window, or be listed in your Download file where you can click it to open.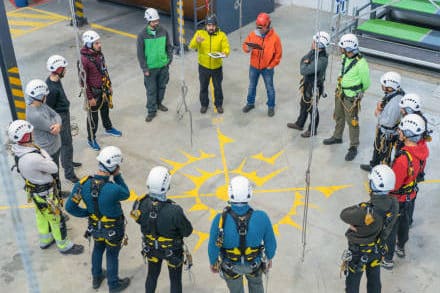 A few tips to keep in mind when conducting a toolbox talk:
The free OSHA training toolbox talks provided on this website are available for you to download and print at no cost for use within your company or organization. They are not to be used for commercial gain, nor can they be republished on any other website or in any document without our explicit permission. They all come with a sign-in sheet you can use to document the toolbox talk and keep on file to demonstrate your on-going commitment to workplace safety, and a few even come with a handout for the employees. Download one, or all, of them today!
Do you appreciate these free toolbox talks?
If you appreciate these free toolbox talks please help increase the visibility of this resource on the internet by sharing a link to this page on your social media accounts or by email with others in your network. Thank you!
See more information about Curtis Chambers, an OSHA expert and author of these OSHA Training Toolbox Talks.