Satisfy OSHA Requirements for Training on GHS, SDS's, and Labels
Meet OSHA's mandatory Hazard Communication / GHS training requirements with our online Haz-Com training courses. These online Haz-Com training courses include the additional training required for employees when the Globally Harmonized System of Classification and Labeling of Chemicals, also known as the GHS, was adopted into the OSHA Hazard Communication standard in 2012. 
Covers training on how to read and understand the new GHS-compliant container labels and Safety Data Sheets (SDS's). Available for General Industry and for Construction. A Hazard Communication refresher training version of this course is also available. Print your personalized Hazard Communication training certification upon successful completion of the course.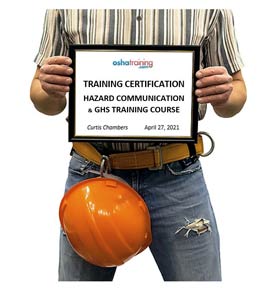 Online Hazard Communication Training Course for General Industry - Just $9.99
Online OSHA Hazard Communication Training Course for Construction - Just $9.99
Online OSHA Hazard Communication Annual Refresher Training Course - Just $5.99
Answers to Frequently Asked Questions About Hazard Communication Training
An OSHA Expert with extensive experience, training, and education in OSHA compliance matters provides answers to questions commonly asked about the OSHA Hazard Communication standards. The information provided in this section about the OSHA Haz-Com standard is for GENERAL INFORMATIONAL purposes only, and is NOT TO BE CONSIDERED LEGAL ADVICE. Employers and others reading this information are advised to contact a qualified safety professional, if needed, about the FAQ's below.
OSHA Compliant Hazard Communication Training Courses
Get you OSHA Hazard Communication training certification at your own pace. On-demand Hazard Communication training courses available for general industry and for construction, as well as Haz-Com annual refresher course.
More Hazard Communication / GHS Training Resources
Make sure your Written Hazard Communication Program has been updated to reflect  Hazard Communication / GHS-related information required by OSHA. Download your FREE Written Hazard Communication Program here – this link opens a Word document that you can download and then revise/customize to make specific to your company or organization..
OSHA Training Services also offers on site training services. Have one of our OSHA-authorized Outreach trainers come to your site to conduct OSHA training for your workers. We will document all training and give certificates of completion to each trainee – CLICK HERE
In addition, we have a page that lists all training requirements listed in the OSHA Hazard Communication standard (1910.1200). Check this page out to make certain you have identified all your training obligations under this standard – CLICK HERE