On Site Excavation Safety Training for the Competent Person
Have our professional OSHA-authorized Outreach trainer come to your site and conduct the Competent Person for Excavation Training course for your group. The class is based on the requirements of Subpart P of the Federal OSHA CFR 1926 construction standards for trenching and excavations. However, we also address nuances that may appear in state OSHA regulations regarding their excavation standards, where applicable.
Competent Person Training Class Overview
There are no prerequisites required for a student to take the excavation competent person training course. The competent person for excavations training class takes approximately seven (7) hours to complete, and can be conducted for your group of eight or more students anywhere in the United States during the week or on the weekend.
This excavation competent person class consists of PowerPoint instruction, video, workshops and a test to keep the trainees engaged. Attendees will also receive a manual, note packet, and a personalized certificate of completion for successfully completing the excavation competent person training course. And all trenching and excavation competent person training is documented / certified per OSHA requirements.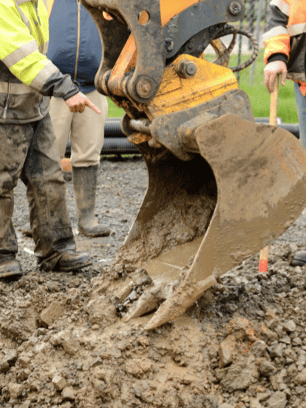 The following topics are covered in this Trenching and Excavation Competent Person training course
Request a Proposal for an On-Site OSHA Excavation Competent Person Training Class